The Metropolitan Orchestra of New Jersey, now in its 50th season (see Our History), is a full symphonic community orchestra composed mostly of local volunteer musicians. The Orchestra performs three concerts per year (fall, winter and spring) featuring talented guest artists and some of the most popular and beautiful orchestral selections from major composers.

Check out the YouTube! page of our conductor Fawn Wiener-Giovannetti for some recordings from our recent concert!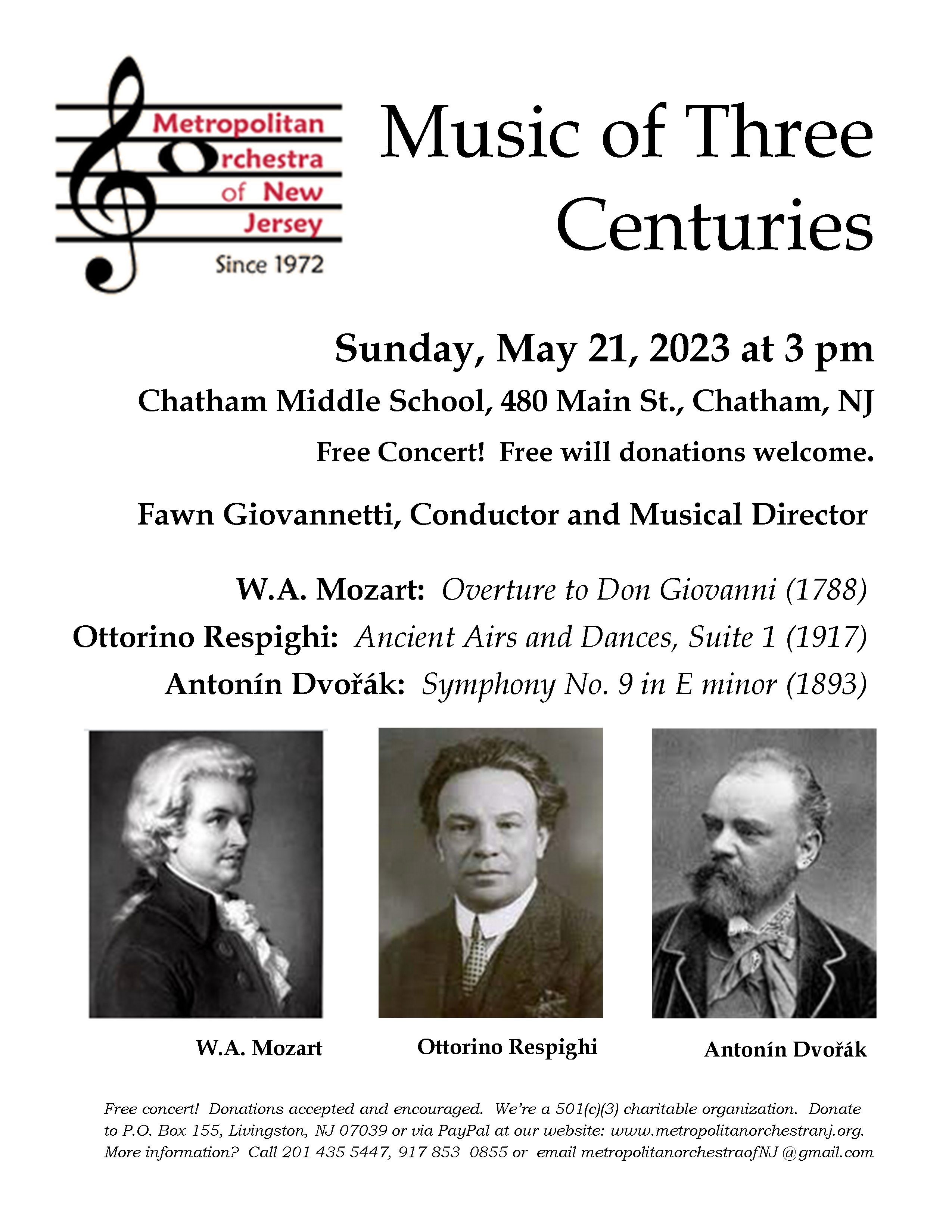 Save the date for our fundraiser at 3 PM on May 7th at the Millburn Public Library!
Click here to download the flyer

Not free on May 7th? Please join us for the same program on either (or both!) of two home concerts:

Sunday, April 30th at 2 PM at the home of violist Peggy Reynolds. Wine and cheese reception to follow.
RSVP by April 26th via email to peggyreynolds110@gmail.com.

Sunday, May 14th at 2 PM at the home of Shirley Li and pianist Mark Yolleck to be followed by a Mother's Day dinner. Space is limited!
RSVP by May 5th: myolleck@aol.com.
Join us at 3 PM on Sunday March 11th at the Millburn Library as members of the Metropolitan Orchestra
perform works of Bach, Perkinson and Brahms.
Click here to download the flyer
Please join us for our Spring Concert on Sunday, May 21st at 3:00 PM at Chatham Middle School.

Click here for more information about this concert or view the flyer.
And save the date for our Spring Concert on Sunday, June 11th, 2017 at 3:00 PM.

Please stay tuned for our upcoming 49th Season!
© Metropolitan Orchestra of New Jersey