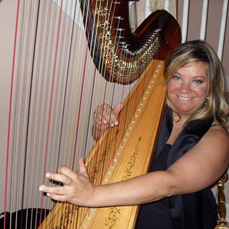 Patricia Turse - Harp
Patricia Turse is a free-lance harpist from the Central Jersey area. She has been playing pedal harp since her college days and performs as needed with community orchestras, theaters and bands. She also performs for weddings, parties and other events that may be enhanced by live harp music.

Patricia is also a board-certified music therapist who believes strongly in the healing power of music and works in New Brunswick at The St. Peter's University Children's Hospital. There the children can participate in music sessions that expose them to the arts and help them to cope with their illnesses.

Patricia maintains a private teaching studio for harp, piano and beginning guitar.

Patricia is a 1993 graduate of the University of Dayton in Ohio with a degree in Music Therapy.